Chatbots
Most people have probably experienced a symptom and subsequently searched for answers on the internet. The results are often confusing or contradicting, which may lead to unnessecary fear and misinformation before contacting a doctor. This underlines the importance of reliable and easily accessible answers which may be provided by a healthcare chatbot.
Project period
Start: 1 June 2022
End: 31 May 2023
Chatbots have become increasingly common, especially in the private sector where the advancements of the AI-driven technology means that chatbots can understand complex sentences as well as integrate with other systems. In order for chatbots to work properly in the healthcare sector, they must be able to give clinically valid answers.
The chatbot must be able to answer the patient group's most frequent questions, and if in doubt, forward the enquiry to a healthcare professional or refer the patient to other contact options.
Aim
This project will examine the potential of AI-based chatbots in the healthcare sector, starting with patients with endometriosis who are in contact with the Department of Gynaecology and Obstetrics at Odense University Hospital (OUH).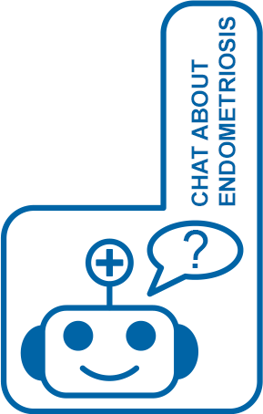 The project runs in three phases:
Uncover the wishes from patients and healthcare professionals for the chatbot and what they need in order to trust the technology.
Develop and test the chatbot in co-operation with patients and healthcare professionals. 
Collection of the patients' experiences within parameters such as user friendliness, relevancy of the answers, language, trust and to which degree the chatbots may replace other ways of searching for answers.
If successful, the solution will provide the patients with immediate answers and reduce the load on the staff, who often answer many identical questions on the phone or chat.
As AI technology develops rapidly, new uses may arise for the chatbots in the future. The experiences from this project will be useful for developing more AI-based chatbot systems in the healthcare sector and serve as a stepping stone for implementation in other departments or with other patient groups.
Participants
The Department of Gynaecology and Obstetrics at OUH
Centre for Innovative Medical Technology (CIMT)
Centre for Clinical AI (CAI-X)
Regional IT at the Region of Southern Denmark
The IT Department at the Region of Southern Denmark will lead the technological development of the bot with assistance from the company SupWiz, which specialises in chatbots.
Funding
The project is funded by the OUH Innovation Fund.
The innovation project is also anchored at the Centre for Innovative Medical Techonology (CIMT).